IBA Group Implements SAP S/4HANA at Major Titanium Producer
Following the successful implementation of SAP S/4HANA at the Georgian Railways, IBA Group became involved in the implementation of other SAP S/4HANA projects, the Satpayev Mining and Processing Plant in Kazakhstan being one of these.
The project is unique because IBA Group carried it out in the shortest possible time and the new solution went into commercial operation two months ahead of schedule. The SAP S/4HANA solution helped Satpayev Mining and Processing Plant, one of the largest enterprises in Kazakhstan, increase productivity and improve business processes.
Launching the project, the customer pursued a number of goals, including modification of production processes through elimination or minimization of manual operations, achieving transparency in pricing, and building a unified information system for all SAP users of the enterprise.
The project yielded the following results:
100 new business processes
124 new business functions
Available in distributed locations
Users from the central management office and the production sites can work concurrently in the new SAP S/4HANA system. Management of Satpayev Mining and Processing Plant has online access to complete and reliable information about the ongoing production processes.
The new SAP S/4HANA solution provides numerous advantages. The distributed infrastructure makes it possible to achieve high speed computing and data transfer, regardless of the distance. The SAP S/4HANA system includes a set of tools tailored to meet requirements of specific industries and businesses. Therefore, the solution is suitable for a variety of industries.
According to Kairat Surauzhanov, Director General at Satpayev Mining and Processing Plant, "The successful realization of the project enabled the enterprise to manage manufacturing, tax, and accounting processes in an efficient manner." He also said, "We can now quickly gain an understanding of what is really influencing the aggregate financial results."
Igor Bordak
Global Delivery Director - SAP Services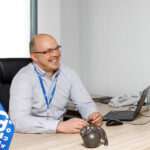 The launch of the project at such a significant enterprise is an important stage in the digitalization of Kazakhstan's industry. The automation will strengthen the position of our client in the global titanium market through optimized business processes and will enhance their reputation as a reliable supplier of titanium products.
About Satpayev Mining and Processing Plant
Satpayev Mining and Processing Plant specializes in the extraction and enrichment of ilmenite ore to obtain ilmenite concentrate. Ilmenite concentrate is the main raw material for production of titanium sponge. Satpayev Mining and Processing Plant exports 100 percent of its products to highly developed industrialized countries. The main industries where the titanium produced in Kazakhstan are used include the aerospace, energy, shipbuilding, and healthcare. The enterprise has direct contracts for the supply of titanium products with the largest aircraft manufacturers of the world. The share of Kazakhstan titanium in the global aerospace industry amounts to 20 percent.