Contactless Solutions are Not as Simple as they Seem
In the post-pandemic age, we are seeing a rise in demand for contactless technology across industries and around the world. But contactless is neither new, nor linked to health and safety alone. When we deploy contactless technology in the field, our clients (particularly transportation systems) attest to convenience, ease of use, and seamlessness. This translates to better experiences for them and for their passengers.
Of course, that does not mean that contactless technology generally or contactless payment solutions specifically, are without their challenges. Before we jump into some of those challenges, however, let's take a moment to examine how contactless technology helps to power Fare Collection solutions.
Fare Collection Solutions
Contactless technology is one of the keys to Fare Collection solution viability. For the state-of-the-art Fare Collection system, it is essential to create interfaces with traditional ways of fare payments as well as payment cards from traditional players like MasterCard and Visa.
"Right now," Vadim Smotryaev, IBA Group Director of Technical Division says, "contactless is best" for passenger journeys, for sustainability, and for ease of use across the band of service. In terms of closing the loop, as Vadim explains, it is important to integrate contactless payment solutions with multiple payment options, not just MasterCard and Visa.
In fact, as he explains it, options like Apple Pay are "really popular among more passengers." What he calls the "new wave of payments" is not contactless for the sake of contactless. It is a solution that allows technology providers to create a true user experience for passengers.
Ease of Use is Not Always Easy
Along this journey, new opportunities emerge to add simplicity and efficiency. This includes launching Rapid Payment. Rapid Payment eliminates extra steps for the transit systems and for passengers, maximizing technologies that allow faster payment processing.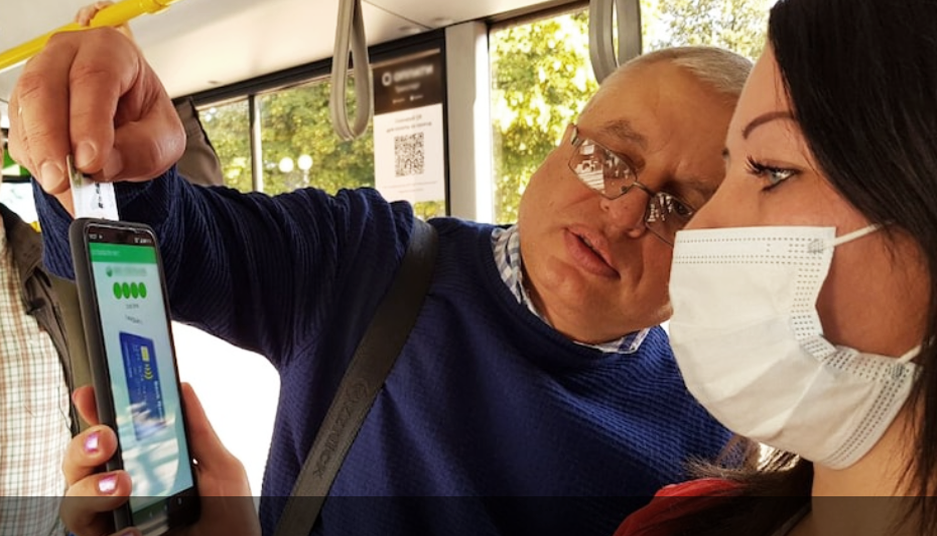 That said, in order to create these efficiencies, there are a number of challenges. On the transit side, for instance, we recognize that the best way to collect payment is digitization. However, digitization requires significant investments of time and money. Before a project can even get off the ground, especially one with as broad a scope as a city's entire transit system, the transit operator must be willing and able to make the necessary investments.
Securing that willingness to invest rests on the vendor's ability to explain the technologies involved, and to put together an appropriate strategy to come in on time and on budget.
Legacy Challenges and Construction Implications
Once again, legacy systems come back to haunt technology solutions providers. While we most often associate legacy challenges with the mainframe support side of our business, we also see legacy challenges in our contactless payment projects for transit system clients.
In this case, we are looking at the complexities that arise from legacy construction. This includes what Vadim calls the "old-fashioned ways of collecting fares." And it ranges from cards to coins to tickets, across public transportation. Remember, many stations were designed to accommodate these forms of conducting transactions.
That means existing architecture needs to be adapted or replaced to accommodate – and to maximize the customer experience impact – of contactless payment. Doing so can involve adding construction, and often unexpected expense, to the overall project scope.
Security Challenges
Security is another complexity that lurks behind seamless contactless experiences. In order for the system to operate, it must be completely safe. There can be absolutely no risk to use credit cards or other types of payments.
Again, this is where investment comes in. When safety is a priority, as Vadim points out, "cheaper solutions simply will not work." As an example, look at the new programs Visa and MasterCard are offering. With a focus on mobility that extends from public transit to car and bike sharing, both companies have strict requirements for transaction security. This is one of the reasons we partner with them to protect the security and privacy of both our clients and their passengers.
Hardware Challenges
However, security is not only an issue as it relates to protecting financial information and securing transactions. In the physical space, the technology itself is vulnerable.
Think about the damage vandals can do to card readers in train stations. Something as simple as cutting a few wires can upend a system's ability to collect fares.
Data Challenges
In addition to building safety measures for the physical space, it is also possible to manage security challenges and improve efficiencies by creating more data centers. In working with major transit systems, we found that, often, they are not ready. They need to hire new employees to handle operations in the physical space. But they also need to increase data capacity.
Now that we understand these challenges, we are working to create cloud platforms and bring them to market as cloud business services. By doing so, we are making it easier for our clients to deliver the experiences their passengers need, while mitigating the challenges that emerge as threats to successful implementation of contactless solutions.
Software Solutions
Observed in this context, SaaS emerges as one of the most important components of the technology services required to build, implement, and support contactless payments. Fundamentally, it is the fact that software as a service actually has the customer, not just the technology, in mind.
Weaving customer-focused technologies throughout the passenger journey helps to reduce contactless challenges and deliver the simplicity customers want. Of course, that is impossible to do without the right work behind the scenes.