Helping RPA Startup Attract New Clients and Investments
Background
The Intelligent Automation software of the client is designed to automate industry-specific manual operations and is used to solve critical business problems, particularly in banking and financial services, as well as other highly regulated industries. Customers can automate initiatives such as anti-money laundering (AML), Know Your Customer (KYC), lending, capital markets, treasury services, and more by enabling rapid and reliable automation of document-heavy work at scale.
At the time of working with IBA Group, the startup raised $220 million, and set itself the task of active growth, by increasing the number of product users and sales.
Challenges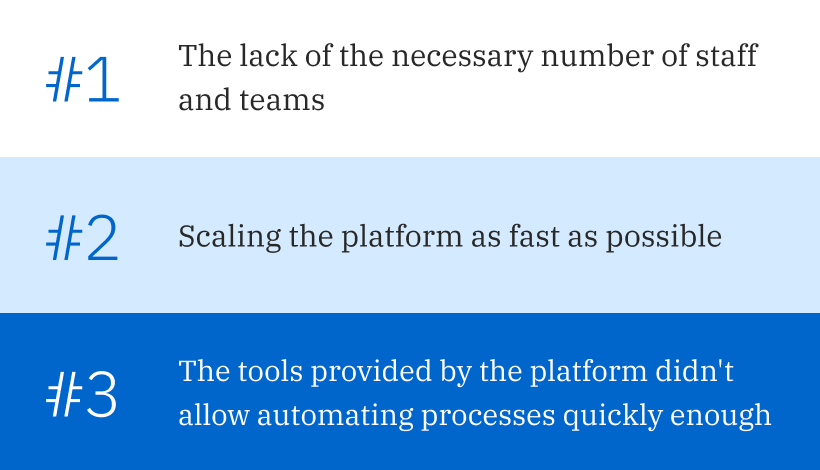 #1
The first challenge the client identified was the lack of the necessary number of staff and teams. They needed a solution that would help them quickly adapt the platform to as many customers as possible. However, this task required a lot of human resources.
#2
The second challenge was scaling the platform as fast as possible to speed up the implementation of the client's product by its end customers. This was supposed to lead to a sharp increase in sales.
#3
The third challenge was identified in the process of interacting with the client. While working with an existing automation platform, the IBA Group team found that the tools provided by the platform didn't allow for automating processes quickly enough.
Solutions
First, to solve the lack of human resources issue, IBA Group provided the required number of qualified personnel to implement the product for customers. IBA Group's delivery model was based on agile approaches. We used iterative implementation with Scrum.
As the main users and implementers of the client's product, the IBA Group team helped them develop, test, and set up their intelligent automation system. As partners, IBA Group identified and helped fix problems before they reached the end customers, which literally meant that IBA Group took on some reputational risks of the client.
To solve the automation processes issues, the IBA Group team developed a new methodology for automating processes within the platform. To implement this concept, IBA Group developed a framework to be implemented in automation. Thus, automation was built not just on a platform, but on a framework that works based on this platform. As a result, it turned out to significantly speed up the automation of processes. As the client liked this approach, IBA Group helped adopt and implement the framework on the main platform. Until now, the client actively support it and expand it independently as part of their product.
This solution allowed the client to significantly speed up the automation processes for its customers. This led to the solution of another challenge – the product sales increase, as well as an increase in customer satisfaction.
Working with IBA Group Startup Assistance Service, the customer achieved the following outcomes.
Quicker time-to-market
Accelerated process automation
Availability of qualified personnel to implement the product
Increased product sales
Higher customer satisfaction
Expanded customer base
The solutions developed by IBA Group allowed the startup to grow (up to 500 employees).
This led to the startup receiving three further rounds of investments totaling $300 million.
Recommendations on How to Raise a Startup
Find a mentor who has experience launching startups
Studies say that founders with mentors have a much higher rate of startup success. Entrepreneurs who work with a mentor are more likely to follow through on their ideas and their businesses are much more profitable. Mentors will guide and support you as you work toward your goals.
You can find answers online, but keep in mind that implementing the tips and strategies you learn will take time and money. You may not realize it isn't the best decision until you've invested resources that could have been better spent. If you're looking to build a team, hire someone who has experience launching startups. As a result, they can act as mentors and provide startup assistance for your business.
The importance of planning
As the saying goes, if you fail to plan, you plan to fail. Sales, development, staffing, skill shortages, and funding are not things to put off for later. They should all be included in your business plan from the start. Not only that, but you must plan for future mishaps. That is, even if you cannot plan for every contingency, you must know what you will do when events take an unexpected turn.
Building the right team
Certain abilities are required not only for your business to survive, but also to grow. Knowing what skills you need — and how to get those people on board — could be the deciding factor in how well your startup does. The recruitment process consumes valuable time that could be spent on other areas of the business for a small team, but not having the right people can create severe bottlenecks and stall the launch of new products and services.
A team of professionals is the most important component of a startup's success. Twenty-three percent of failed startups mentioned team issues as a major cause. When looking for qualified employees, you may encounter the following difficulties:
Slow communications
Long onboarding (access settings, privacy, info sharing)
Problems in the development process
Weak soft skills of the outsourcer team
CV does not meet project requirements
And the last, but not least point that you should keep in mind: investors invest in strong teams. In the above example, you can see that team expansion with experienced professionals attracted multimillion-dollar investments to a startup.
About IBA Group's Startup Assistance Service
IBA Group's Startup Assistance Service was created to assist you in growing your own startup as quickly and easily as possible with a great pool of experienced professionals. With the help of the IBA Group Startup Assistance Service, you'll get:
Comfortable collaboration between the outsourcer and the internal team
Fast communication and decision-making
Synergy in the team when the outsourcer participates in the same way as internal employees in your work
The proactivity of outsourcing teams within a startup – so that they participate in discussions and recommend what needs to be done, and not just execute
Long-term relationships with an outsourcing company (starting small and growing and expanding)
Your project implemented exactly on time and within the agreed budget
We'll also assist you in developing your business idea, writing a business plan, identifying a profitable market, and determining a clear path to success. IBA Group is a one-stop resource for all of your business assistance needs. Business development managers (BDMs) are assigned and act as the point of contact for your startup, coordinating all state services to ensure your success, leading to higher revenue.