MAINFRAME & MULTIPLATFORM SOFTWARE
Tens of thousands of critical business operations run on mainframes. We provide solutions that improve mainframe efficiencies, lower costs, harness automation, and resolve issues.

Empower mainframes with agility and improve collaboration between software development and operations teams.
Learn more
MAINFRAME & MULTIPLATFORM SOFTWARE
After half a century, mainframes are a necessary reality for a variety of large businesses. Although viewed by many as an outdated technology, mainframes are still processing data for airlines, government agencies, and banks. The mainframe platform remains unbeaten in terms of security and performance, which is important for transactional applications. The latest mainframes are enormously powerful, being able to process a trillion transactions a day.
We at IBA Group have deep expertise in system and application development for IBM mainframes and other mainframe platforms. Our traditions date back to the days when first IBM mainframes came to life and IBA has been an IBM business partner since the company's foundation. Today, IBA Group is an IBM Platinum Partner.
Initially, we worked on classical tasks. However, the mainframe platform has been evolving and we began working on mainframe modernization, automation of mainframe maintenance, and DevOps for the mainframe. More than 400 IBA experts are engaged in the development and support of mainframe applications. 
DEVELOPING MAINFRAME SYSTEMS AND APPLICATIONS
We develop mainframe systems and applications on different operating systems, including z/VM, BS2000/OSD, and Linux on z Systems.

With our diverse and long-term expertise, we can build and maintain multi-platform enterprise solutions, as well as optimize the performance of your systems, databases, and applications. IBA helps you operate at peak performance without sacrificing quality or taking on excessive costs.
DEVOPS FOR MAINFRAME
DevOps is an agile solution that promotes efficiency and improves quality. DevOps for the mainframe is of great importance because flexibility in the change of functionality is often the most vulnerable part in mainframe development.
In the DevOps environment, silos are rare and limited. This makes it significantly easier to access information across segments and easier to implement automation.
Shorter cycle times, the ability to respond quickly, automation, and access to un-siloed information improve overall software delivery efficiencies in the DevOps environment. 

EMPOWER MAINFRAMES
Development, QA, security, and operation teams to work as one team
Discrete software development tools to work as one toolkit
Next generation developers to manage mainframe complexities efficiently
DEVOPS METHODOLOGY
The DevOps methodology in relation to mainframe teams is a four-step process that includes analysis, unification, automation, and optimization.
We review and analyze the existing development lifecycle to identify the stages to automate and optimize. In most cases, this research will show teams integrations. It also highlights both the technical side of the development processes and the cultural changes that need to take place within the teams. 
Next, it is important to unify mainframe development. Unifying makes change management possible because it simplifies operations. This involves versioning, tracking, and planning. 
We automate all stages, including versioning, deployment, and testing. Automation makes the solution more stable and improves its scalability and productivity.
Finally, it is time to optimize the operation. Both visualization and testing come into play, as well as data conditioning.
With these steps in order, everything is in place for DevOps adoption.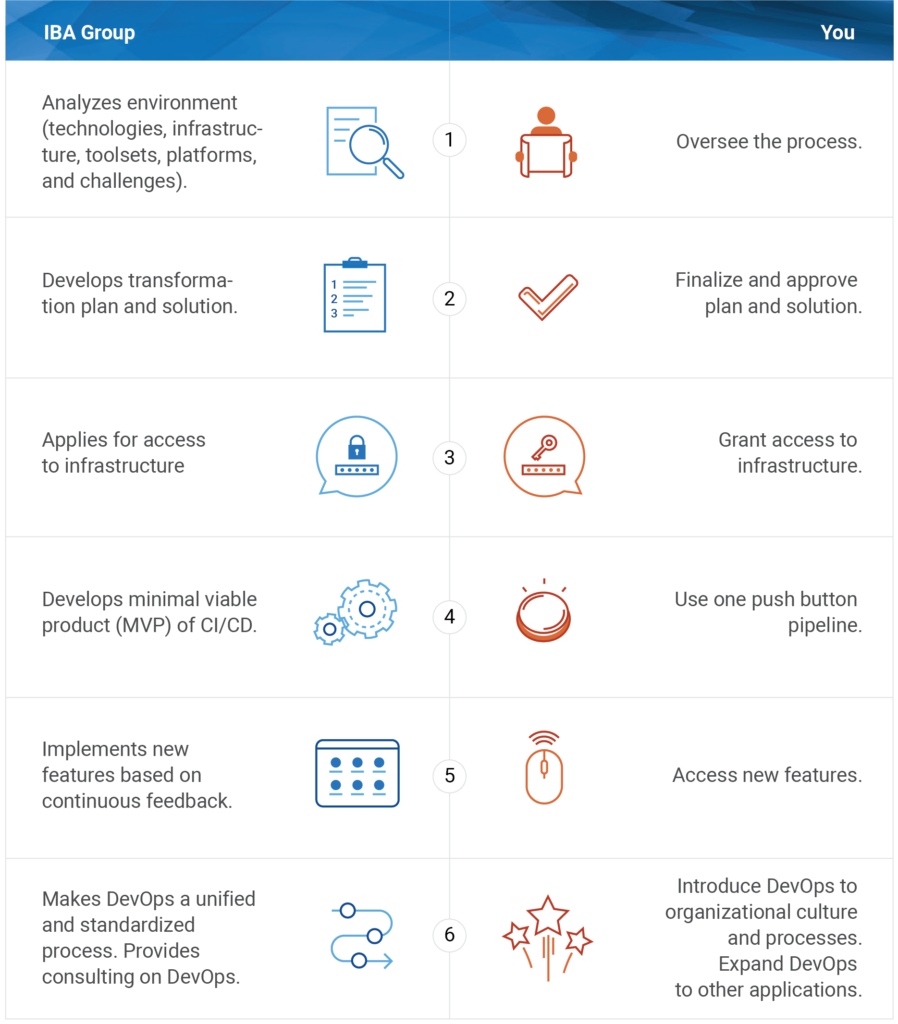 MAINFRAME MODERNIZATION
As business applications and databases are difficult to maintain and expensive to operate, clients come to us, requesting to migrate their legacy solutions from mainframe to other platforms. We help them migrate the interface, performance or maintainability of their existing legacy mainframe footprint or even migrate the entire code and functionality to a new platform, including cloud.
Our experience allows us to bridge the gap between old and new technologies, resulting in practical business tools that help you move your business forward. At IBA, we have been leading successful migration projects for our clients for many years. 
OPEN SOURCE
We have been traditionally involved in projects on modernization of the architecture of mainframe applications. Initially, we developed applications from scratch and eventually expanded to add open source solutions, such as Zowe. This includes modernization towards GUI (Graphic User Interface) and building of a flexible SOA (Service – Oriented Architecture).
We bring our knowledge of mainframe complexities and challenges, along with a deep understanding of what it means to be a real partner to businesses in creating and maintaining sustainable outcomes for you. We develop, maintain, modernize, and integrate your mainframe applications with enterprise software and solutions, giving your legacy mainframe applications a second life. With IBA Group, your critical business applications are up-to-date and running at optimal performance.
Green field SAP implementation
IBA Group gives your legacy applications running on mainframe a second life. We maintain, migrate, and integrate with enterprise software and solutions.

SAP roll-outs
Your critical business applications require your systems to be up-to-date and running at optimal performance. IBA helps you operate at peak performance without sacrificing quality or taking on excessive costs.