WHY MIGRATE TO SAP S/4HANA?
We give you the power to implement the most innovative SAP solutions. For our clients who need to migrate SAP S/4HANA but do not know where to start, we assess SAP systems and guide you from idea to go-live.
Embrace the Future: Migrate to S/4HANA and prepare your business to ride the wave of technological advancements. Stay ahead of your competitors and make sure your business is not left behind when support for SAP Business Suite 7 ends.
Avoid Last Minute Rush: Beginning your migration process now, you can avoid the last minute scramble and ensure a smooth, trouble-free transition.
Data Safety First: Early migration to S/4HANA guarantees protection of your historical data, ensuring no valuable insights get lost in the shuffle.
Cost and Time Efficient: Starting your migration process earlier, you can spread the costs over a longer period, allowing for better budget planning and mitigating any sudden financial burdens.
Maximize New Features: Migrate to SAP S/4HANA sooner to harness the power of its enhanced features, improving your business performance and efficiency.
Seamless Integration: SAP S/4HANA offers seamless integration with other SAP products and services, providing a holistic solution to all your business needs.
Harness Real Time Analytics: Powerful SAP S/4HANA's real time analytic capabilities enable your business to make faster, more informed decisions, leading to improved operational efficiency and profitability.
Stay Supported: Migrate to SAP S/4HANA to continue receiving the excellent service and support you've come to expect from SAP.
Proactive, Not Reactive: Don't wait until the eleventh hour. Start the migration now and turn a potential disruption into an opportunity for advancement.
Platform for Innovation: SAP S/4HANA's advanced capabilities offer a platform for innovation, enabling your business to become more agile and customer-centric.
THE ONLY SAP S/4HANA MIGRATION ROADMAP YOU'LL EVER NEED
SAP S/4HANA MIGRATION SERVICES
SAP S/4HANA PRE-TRANSITION SERVICES
Business Processes Analysis and Optimization

ABAP Code Analysis & Adaptation

System Technical Preparation & Upgrade

Integration & Transition to SAP Cloud Platform Integration Suite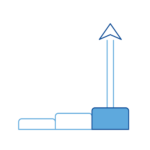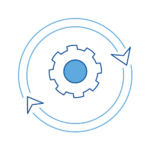 SAP S/4HANA TRANSITION AND CONVERSION SERVICES
Error Mitigation & Data Validation

Custom Code Conversion

Transition by SAP Basis Experts
SAP S/4HANA POST-TRANSITION SERVICES
Database Extensions for SAP S/4HANA

Output Management

Authorization & Security

Fiori Adaptation

Data Migration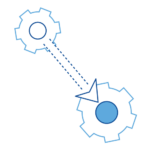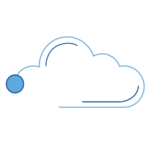 MIGRATION TO RISE WITH SAP, CLOUD ENVIRONMENT
SAP S/4HANA MIGRATION SCENARIOS

TECHNICAL ASSESSMENT
Technical assessment is the first step in the transition to SAP S/4HANA. It helps you determine the amount of resources and time you need to allocate to the transition. In addition, it enables you to develop a detailed plan for your migration, as well as assess all relevant current and potential risks. Ultimately, this step gives you fast access to innovative SAP S/4HANA features.
As the result of technical assessment, you receive a list of tasks to implement and a recommendation about the migration scenario that is the most feasible for your migration project. We distinguish four basic scenarios for migration to the on-premise version of SAP S/4HANA.
GREENFIELD IMPLEMENTATION
In the case of Greenfield Implementation, you are implementing an entirely new SAP S/4HANA solution. Greenfield Implementation is the migration option to choose, if you have never used an ERP system before or if you have a solution made by another vendor. Further, Greenfield Implementation is  useful, if your SAP solution has functionality that you do not use or do not want to use in the future. If you migrate your system in full, you repeat your problems over again.
BROWNFIELD IMPLEMENTATION
Converting ERP into SAP S/4HANA is also known as System Conversion or Brownfield Implementation. Brownfield Implementation is feasible  when business processes are clear and well documented. In the case of Brownfield Implementation, you are converting the functions and data you want to retain from the old system onto the new SAP S/4HANA solution.
HYBRID MIGRATION (Selective Data Transition) from Business Suite 7
Hybrid Migration (or Selective Data Transition) is useful when you need to transfer your data from one or more existing ERP solutions to a new SAP S/4HANA solution. This scenario is a good option for you, if you are choosing to use new functionality after migration but are willing to save the investments that you already made in the customization of your existing functionality.
Selective Data Transition offers two prominent strategies for setup of a target system: Shell Conversion and Mix&Match. In the Shell Conversion method, a shell copy of the production system, without master and transaction data, is created and then converted to SAP S/4HANA. As for the Mix & Match method, it involves a fresh SAP S/4HANA installation followed by a targeted transfer of specific elements of the existing configuration and ABAP repository, either manually or using transportation.
LANDSCAPE TRANSFORMATION
The Landscape Transformation approach is a smart choice for a company that utilizes multiple SAP ERP systems. It is also a good choice for companies that have non-SAP applications that need to be integrated with their SAP S/4HANA systems. These include analytical platforms, HR software, and procurement applications, among other applications essential to business operations.
In these cases, the transition from the old landscape to the new one is done by migrating data from different sources with a defined set of SAP Landscape Transformation tools. Within the Landscape Transformation approach, data that are stored in the inherited applications become part of the SAP S/4HANA core. In fact, this is the first step into the new system. Once that is complete, the only thing left to do is plan the phased transfer of older business applications to SAP S/4HANA. Then, sunset those after the transfer is complete.
FIXED PRICE OFFER FOR MIGRATION TO SAP S/4HANA
SIX EASY STEPS TO MIGRATE TO S/4HANA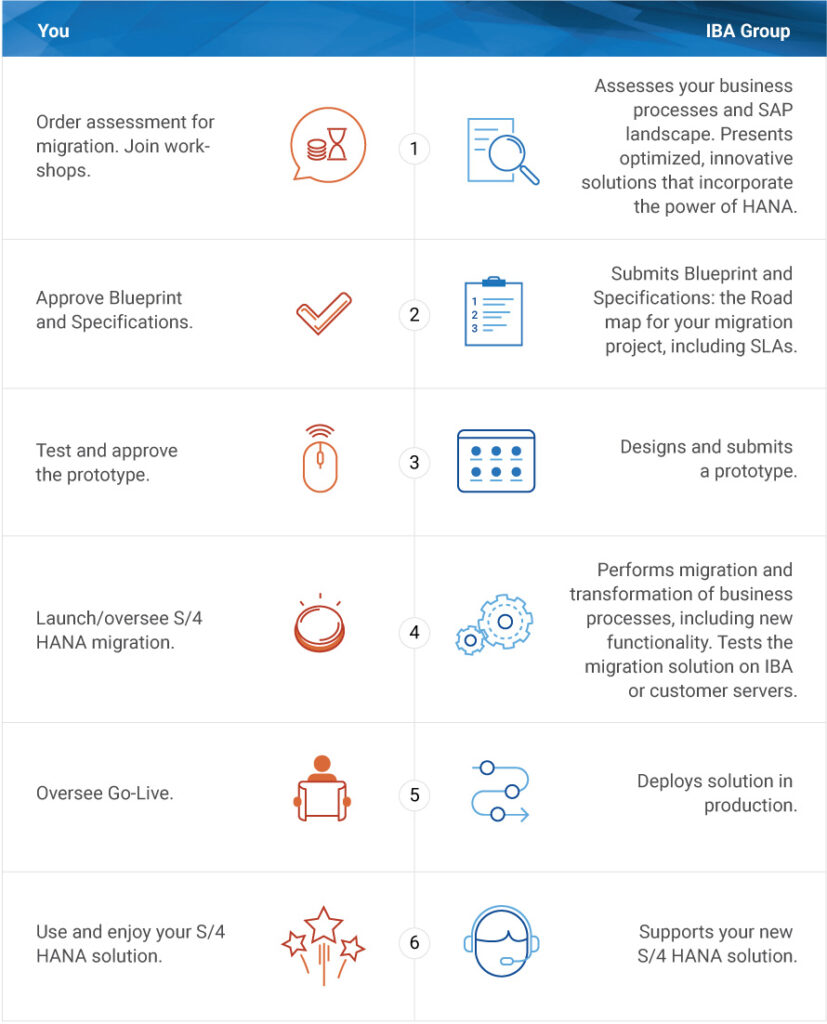 HOW TO MIGRATE TO SAP S/4HANA CLOUD
Having a reliable, trusted partner like IBA Group, as you prepare to migrate to SAP S/4HANA is a responsible way to begin the process. Not only are we able to connect you with the right approach, we are able to work with your in-house SAP consultants to migrate to SAP S/4HANA, so that your organization is poised to enjoy the benefits of S/4HANA sooner.
SAP has two cloud products aimed at different market segments, namely RISE with SAP and GROW with SAP. These products help businesses of all sizes navigate digital transformation.
RISE with SAP is designed for larger businesses and the upper-mid market and includes SAP S/4HANA Cloud, business process redesign, and technology training.
Tailored for small and mid-sized businesses, GROW with SAP offers a suite of cloud ERP solutions that include SAP S/4HANA Cloud, public edition and provides quick adoption services, pre-configured best practices, and embedded AI and automation competencies. GROW with SAP is a ready-to-run cloud ERP solution with self-service acceleration tools, embedded SAP Build portfolio for quick automation, and ready-to-go preconfigured processes. GROW with SAP is hosted and operated directly by SAP.
SAP S/4HANA MIGRATION LEADERS
SAP migration gives us the chance to connect with our clients as real partners. We listen carefully to your needs, limitations, goals, and system usage habits and requirements. In addition to working as a trusted partner to our clients, IBA Group is an SAP Gold Service Partner. At IBA Group, we are experts in managing how to migrate from Business Suite 7 to SAP S/4HANA. We have more than 3,500 business users working with SAP S/4HANA systems that our experts implemented across the globe.