SAP Support
What is SAP AMS?
SAP Application Management Services (AMS) are outsourcing services where a company that specializes in SAP maintenance and support provides ongoing support for your SAP solutions.
WHY SAP AMS?
Introduction of SAP AMS gives you the following benefits:
High quality IT support based on your business requirements
Deep insight into relationships between users, configuration items, and incidents
Controllable service level
Lower number of disruptions
Maximum return on your SAP investment
WHAT IS SAP AMS FROM IBA GROUP?
With decades of experience in engineering excellence and provision of smart solutions, IBA Group ends your struggles with SAP maintenance. We provide SAP Support as a Service, solving incidents in real time to get your business running better and faster.
Our Gold Certified SAP consultants provide high level SAP Application Management Services. We deliver SAP Support as a Service, swift incident management, and knowledgeable change management. After three decades in business and expertise in design, development, deployment, and maintenance, IBA Group is uniquely suited to provide support across all levels. For our US clients, we focus on Level 2 and Level 3 support because it allows you to get the most of our expertise and to save money on hiring, training, development, and consulting costs. In addition to high level technical knowledge, we also bring our understanding of business needs and requirements, regulations, and constraints.
EXPERIENCED SAP SUPPORT TEAMS
Our certified SAP consultants support you through the entire cycle, from incident management to problem management and change management. IBA Group consultants solve all types of errors, including user errors, data errors, SAP errors, and implementation errors.
Our experienced staff trains users and organizes the technical support and infrastructure support you need. Our SAP consultants work with the staff you have to create seamless delivery and seamless communication about the solutions we are deploying and how those solutions improve the overall ecosystem of your operation.
In many situations, business users are unable to determine exactly what they need. You may understand the problems you face. Your IT team may have a list of common complaints or errors. From our vantage point, we see the whole picture and develop and deploy appropriate solutions to improve that picture.
SAP SUPPORT SERVICE LEADERS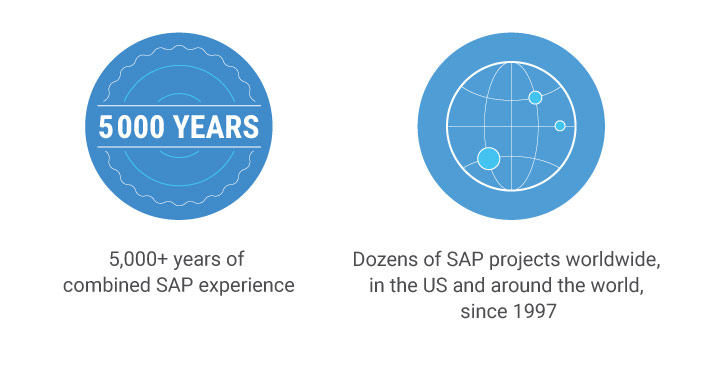 MOVE FROM VENDOR LOCK-IN TO A BUSINESS-DRIVEN ROADMAP
IBA Group uses ITIL as a guideline to implement processes and functions your organization needs. ITIL (Information Technology Infrastructure Library) is a framework that standardizes the entire lifecycle of IT services within a business. The ITIL best practices align IT activities and expenses to business needs and change them as the business grows or transforms.
We offer technical support, knowledge management, and configuration management, as well as build a complete responsibility matrix, following the RACI Model (Responsible, Accountable, Contribution, and Informed). The use of the ITIL framework allows us to connect with our clients as real partners, rather than just a backend support team. Applying consistent ITIL practices across the entire SAP support lifecycle, IBA Group can do the following in the most efficient way:
Implement processes and functions critical to SAP support, including Service Desk, Application Management, Operations Management, Service Level Management, Knowledge Management, and Configuration Management
Create a RACI responsibility assignment matrix
Develop process metrics
Run service operations (Incident Management, Problem Management, Event Management, Request Fulfillment, and Release and Deployment Management)
We employ DevOps with its core principles, such as open communication, collaboration, and shared goals to see the entire process and to bring in consistency.
IBA Group provides SAP support for the entire SAP landscape around the globe, including North America, Europe, India, and Asia Pacific. Here in the US, we provide SAP support at all levels, working directly with in-house developers to ensure that SAP investments are well-spent and solutions are designed to fit every business according to its specific needs.
SAP PARTNERSHIPS
IBA Group offers a variety of services for SAP, all of which make your operation run more smoothly and help you get the most of your SAP investment. PartnerEdge empowers us to deliver more to your business. With efficiency and speed in mind, SAP PartnerEdge empowers us to design and develop solutions, as well as integrate and operationalize applications for your business seamlessly.
Further, as an SAP Development Partner, our experienced team members develop the core of SAP on JAVA language. This means that you receive sustainable support that keeps your applications working harder for you.
SAP Service Partnerships mean that our team is poised to develop SAP code to provide additional, important solutions and application management specifically for the needs of our clients and the customers they serve.
When we talk about partnership, we mean more than just SAP certification. We make a total commitment to the quality and reliability of the services we provide. In partnership with you, we deploy our expertise to build, innovate, and sustain.
SAP SUPPORT PLANS