IBA Group Highlights Zowe Advancements at SHARE New Orleans
From August 13 to August 18, New Orleans hosted the vibrant SHARE 2023 conference, where IBA Group participated as a presenter and exhibitor, showcasing its expertise in mainframe.
SHARE is renowned as a leading platform for mainframe professionals to connect, learn, and explore new insights. This year's conference encompassed engaging topics, including Machine Learning and AI, DevOps in the Enterprise, New Workloads for IBM Z, Security and Compliance, and the world of Zowe & Other Open Source technologies. In addition to industry giants like IBM, Broadcom, and Rocket, emerging players in the mainframe landscape joined the event.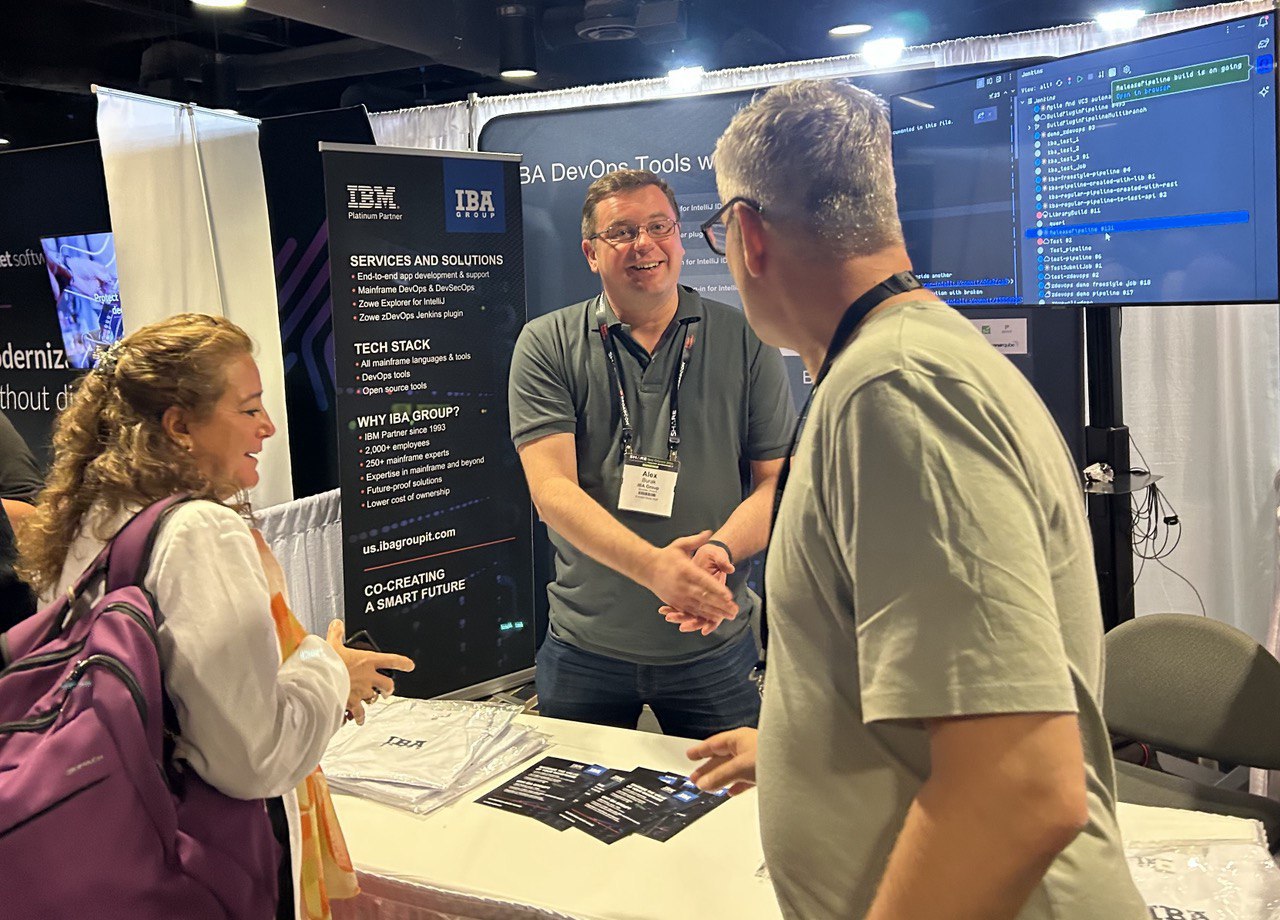 IBA Group Sessions at SHARE New Orleans 2023
IBA Group has always been at the forefront of advocating for enhanced accessibility of the mainframe to the younger generation of mainframers. At previous SHARE conferences, the IBA Group team presented open source solutions designed to create a more user-friendly mainframe interface for young developers. This commitment to accessibility led to IBA Group's involvement in the large-scale open source Zowe™project.
At SHARE New Orleans 2023, IBA Group joined the Open Mainframe Project community in celebrating the fifth anniversary of Zowe through participation in two engaging Zowe Day sessions. These sessions highlighted IBA Group's accomplishments and plans. In the session titled Zowe Day Part 2: Zowe V2 Technical Highlights, IBA Group provided insights into upcoming versions of the Zowe™ Explorer plugin for IntelliJ IDEA™. Collaborating with Zowe Squad leads, IBA Group's developer Valiantsin Krus shed light on key advancements in Zowe's journey.
IBA Group also took part in the Zowe Roadmap Open Discussion: Our Plans, Your Influence! session. This session facilitated a productive discussion about Zowe's direction, promoting the exchange of ideas with participants. Simultaneously, Zowe™ Squad members collaborated to review and adapt the current Zowe™ roadmap in real time.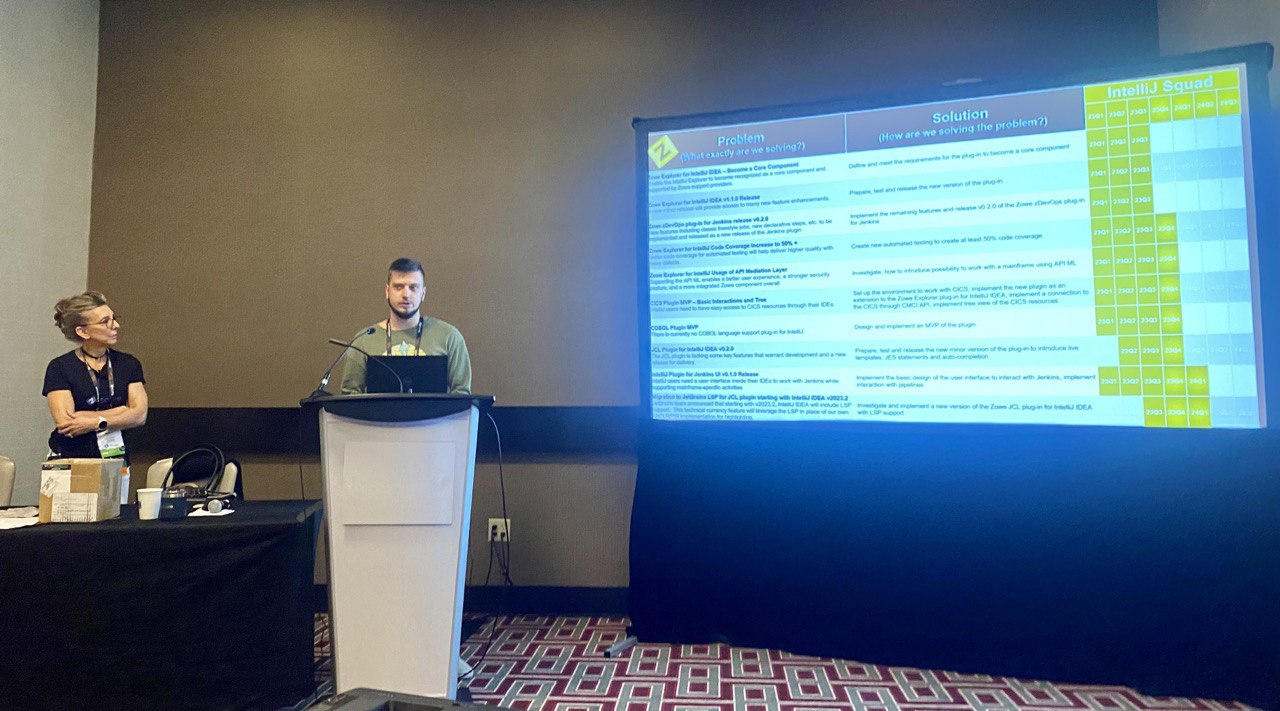 Zowe™ Explorer for IntelliJ IDEA™
The IBA Group-developed Zowe™ Explorer plugin for IntelliJ IDEA™ opens up direct access to mainframes from a contemporary integrated development environment (IDE). This open source plugin empowers developers with an interface that features a unified toolbar, structured trees, and drag-and-drop functionality for streamlined interaction with mainframes. Similar to the VS Code Zowe™ Explorer, this plugin extends the capabilities of the IntelliJ IDEA™ platform, offering a modern approach to mainframe interaction. It aims to simplify interactions, minimize complexity by necessitating only a mainframe connection and specific working sets, and aligns with the intuitive user experience of the IntelliJ platform. You can download the plugin here: https://plugins.jetbrains.com/plugin/18688-zowe-explorer.
In addition to Zowe Explorer, IBA Group's plugins for IntelliJ IDEA include:
Zowe™ Client SDK for Kotlin™
Zowe™ JCL plugin for IntelliJ IDEA™
Zowe™ zDevOps plugin for Jenkins®
MVPs (currently in active development):
UI Jenkins® plugin for IntelliJ IDEA™
CICS plugin for IntelliJ IDEA™
COBOL plugin for IntelliJ IDEA™
Test Framework plugin for IntelliJ IDEA™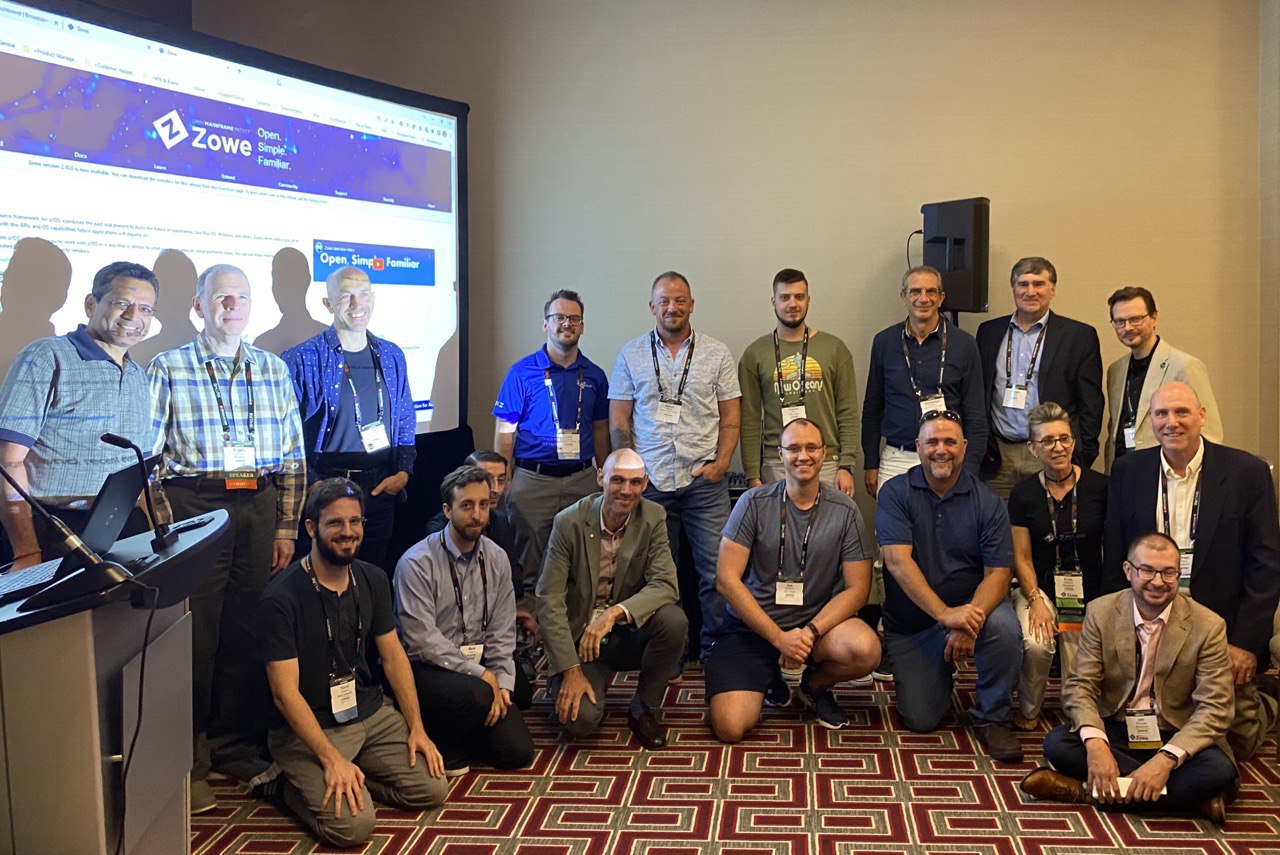 IBA Group: Shaping Mainframe Innovation since 1993
With over 30 years of experience in the mainframe domain, IBA Group, a Platinum Partner of IBM, is dedicated to maximizing a client's mainframe investment and enhancing IT flexibility. The vision is clear: to democratize DevOps practices by expertly incorporating Zowe and open source technologies into mainframe development. By embracing open source on the mainframe, IBA Group empowers teams with a diverse range of tools, resulting in amplified efficiency, enhanced agility, and accelerated delivery of high quality software solutions. To learn more about how IBA Group is shaping the future of mainframe development, you can explore the offerings here. Your feedback is valuable to us, so please feel free to get in touch.
IBA Group sends a big thanks to the SHARE Association for setting up this awesome event. Speakers, partners, and attendees all made SHARE New Orleans 2023 a place of sharing, learning, and moving ahead. With excitement, IBA Group looks forward to more talks about DevOps, Zowe™, and the transformative impact of mainframe technology at upcoming SHARE events.
Read about the past SHARE conferences:
IBA Group Presents at SHARE Virtual Experience
IBA Group's DevOps Team Presents at SHARE Fort Worth
IBA Group Presents Mainframe Open Source Solutions at SHARE Dallas